Port Arthur Amateur Cinema Society


April 1929 - Port Arthur Amateur Cinema Society founded
In 1928, Fred Cooper, a bakery owner from Port Arthur, Ontario, took his family on a trip to England. Like a growing number of prosperous middle-class Canadians during the late 1920s, he purchased a 16mm movie camera to capture every moment of his family's vacation. When he returned to the Lakehead, Cooper showed some friends the footage he had taken of England. So much interest was generated that a number of local clubs and charities began to request the use of his films for fundraising.

Not wanting to disappoint them, Cooper began to wonder if plays could be adapted and filmed to raise money for those charity groups he did not want to turn down. However, Cooper faced an insurmountable problem – he lacked the creative and artistic talent necessary for producing films. Luckily, his accountant and friend Dorothea Mitchell was an avid photographer and a writer of some local repute having frequently written for local newspapers and been involved in local theatre. In April 1929 they formed the Port Arthur Amateur Cinema Society, the first such amateur film group in Canada.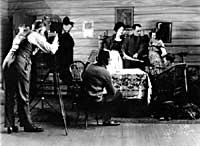 Photo courtesy Thunder Bay Historical Museum Society

Having the desire to make films is one thing, but figuring out what to make your film about is another. Dorothea Mitchell at first decided to send away to magazines such as Movie Makers for scripts. Unfortunately, she found them uninteresting and too short. Mitchell, with Cooper's urging, decided to write an original script based on her experiences as a sawmill owner in Silver Mountain Ontario in the 1910s. She did so in one week. After enticing a number of friends and neighbours to take part, filming began and was completed at a break neck speed as the plot called for snow, but spring was quickly arriving. The finished film, A Race for Ties, was Canada's first feature-length amateur film and was shown, accompanied by a newsreel also made by the Cinema Society, to the residents of Port Arthur and Fort William for three days beginning on 31 May 1929.

Buoyed by the success of their first production, the Port Arthur Amateur Cinema Society in the summer 1930 completed their second film, SleepInn Beauty, a comedy about a bathing beauty contest. In the spring of 1931, the Port Arthur Amateur Cinema Society underwent minor restructuring. Deciding to expand, the Society purchased office space and invested in new equipment such as arc lights and a bigger camera in preparation to make a much more complex film. This film, entitled The Fatal Flower, was never completed. Overextension, a lack of interest caused by the arrival of sound films, and the beginning of the great depression forced Mitchell to pay off the Society's debts.