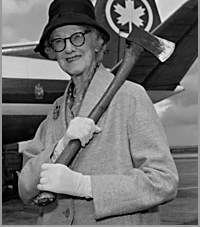 Welcome to the Lady Lumberjack and Fatal Flower Project,
an educational website about early amateur filmmaking in Canada.

The Lady Lumberjack was Dorothea Mitchell, the first female independent filmmaker in Canada, and The Fatal Flower was her final film. In only two years, (1929-1930), Dorothea Mitchell and the Port Arthur Amateur Cinema Society produced three feature-length films in what is now Thunder Bay, Ontario. The historical importance of the films made by the Port Arthur Cinema Society is second to none. This website uses these examples to assist teachers of Media Studies in the instruction of filmmaking, and to explore a little-known chapter in Canada's filmmaking history.